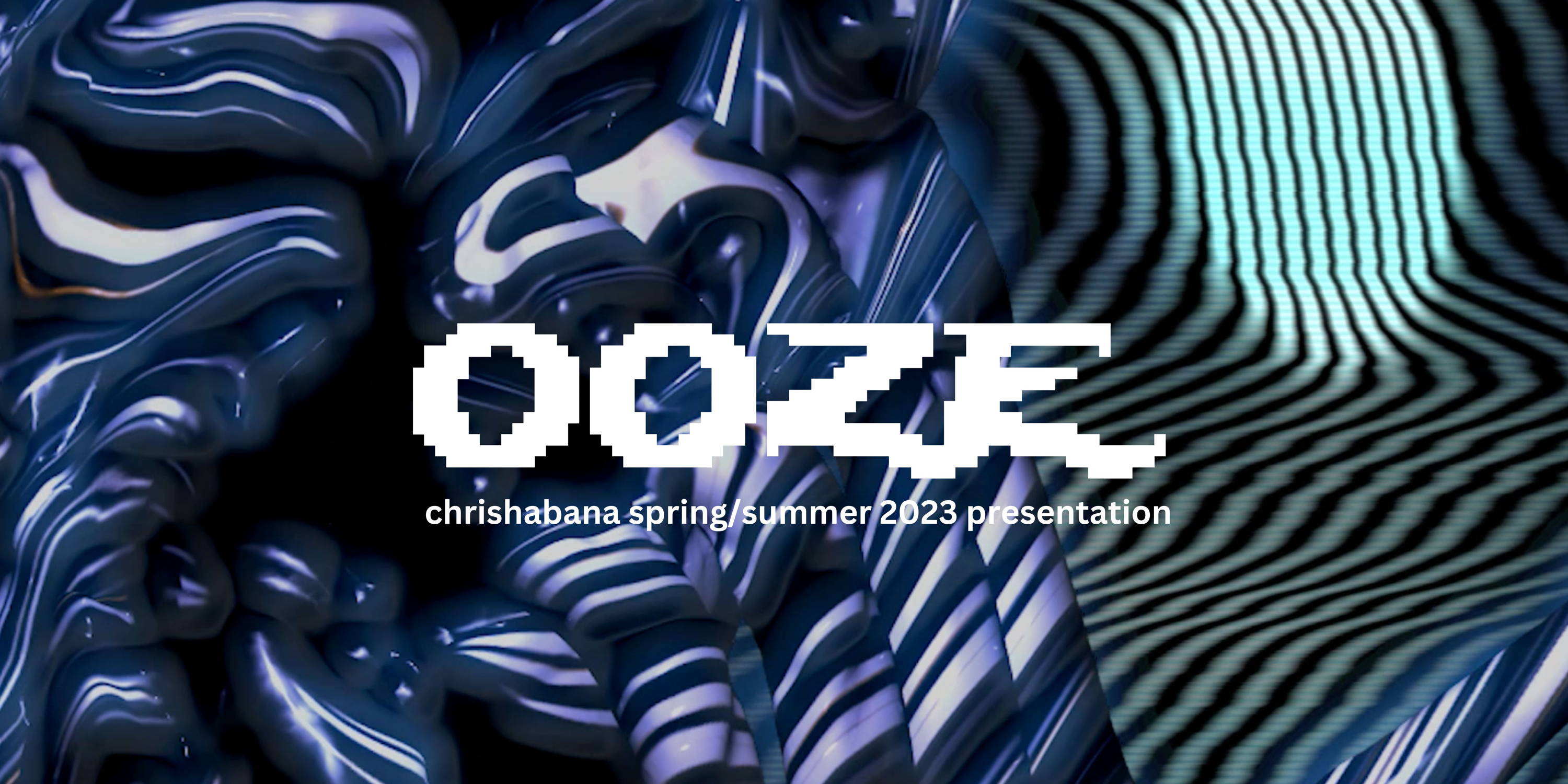 ---
"Ooze conjures up a lot of sensory imagery whenever it is said. The word is tactile, sensual, slow, disgusting and seductive all at the same time. It was the perfect word to encapsulate major elements within the jewelry and clothing collection, as well as a metaphor for how our own business has grown over the past few years.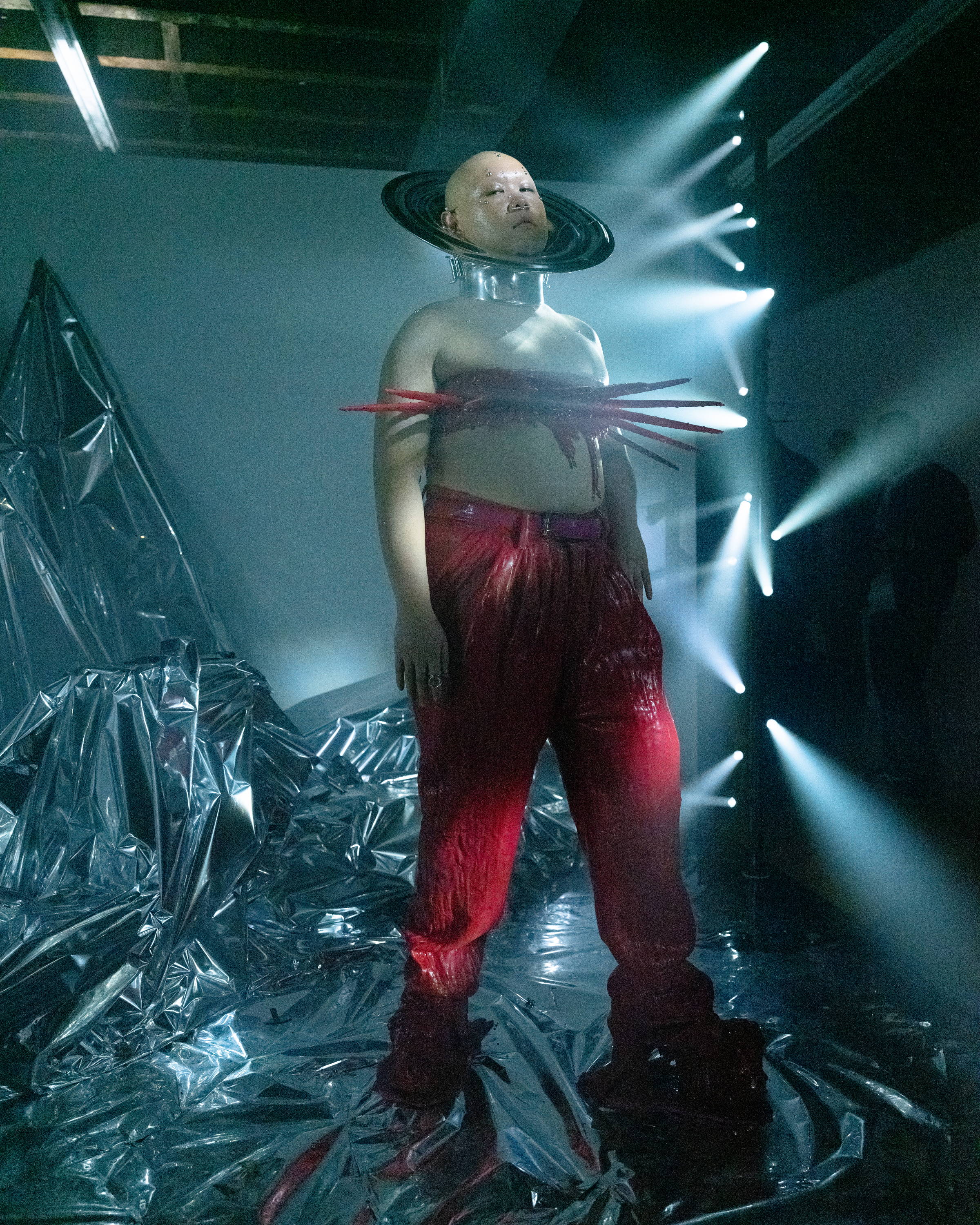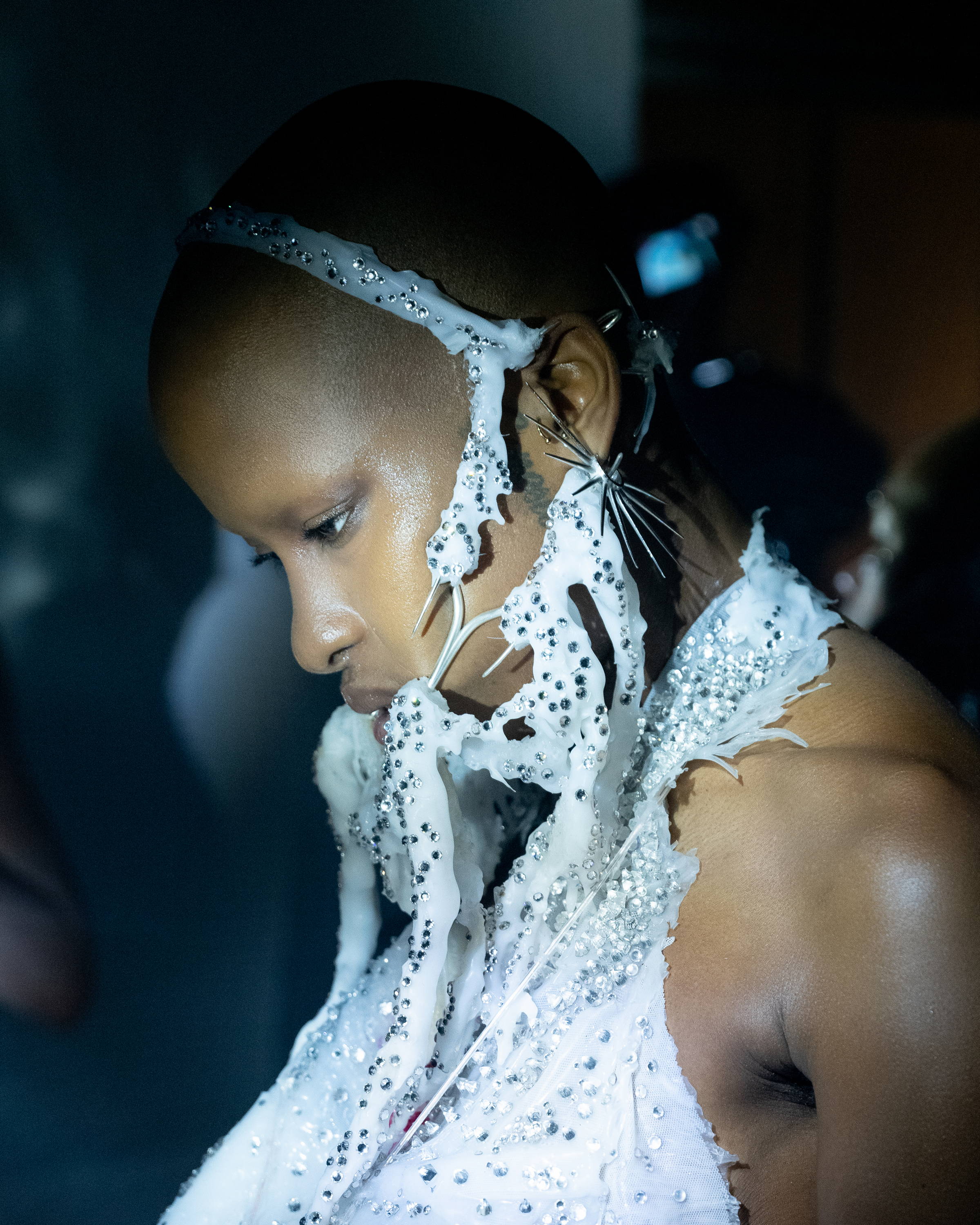 In recent works, we have explored silicone as a medium and loved how organic and unpredictable it can be. The lack of control is what intrigues me the most about it. I also love how slow it pours and that with silicone, it's a waiting game. We have incorporated this technique into our signature silver futuristic pieces, and I love how the organic forms of the silicone contrast the clean nature of the jewelry and statement pieces.  
To quote the great filmmaker Clive Barker describing the look of the Cenobites in his famous Hellraiser series, I wanted the collection to express a sort of 'repulsive beauty'.
Our business has had a steady and slow rise since its debut in 2008. We have evolved from a wholesale jewelry business into a fully realized creative studio where we not only make jewelry, but also create custom accessories and even unconventional clothing and costume for artists worldwide. The rise was a steady and slow one, and I'm really happy about this kind of growth.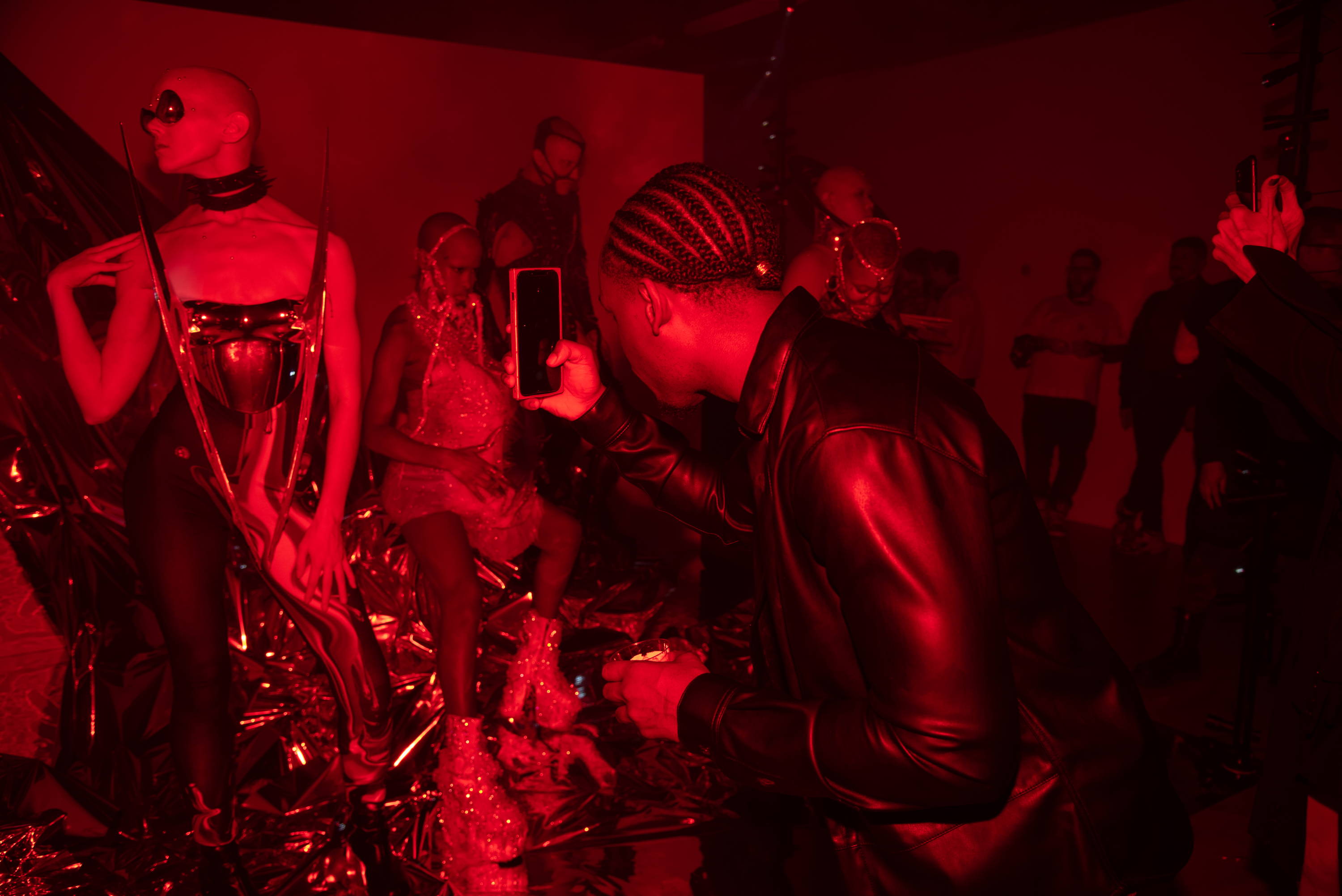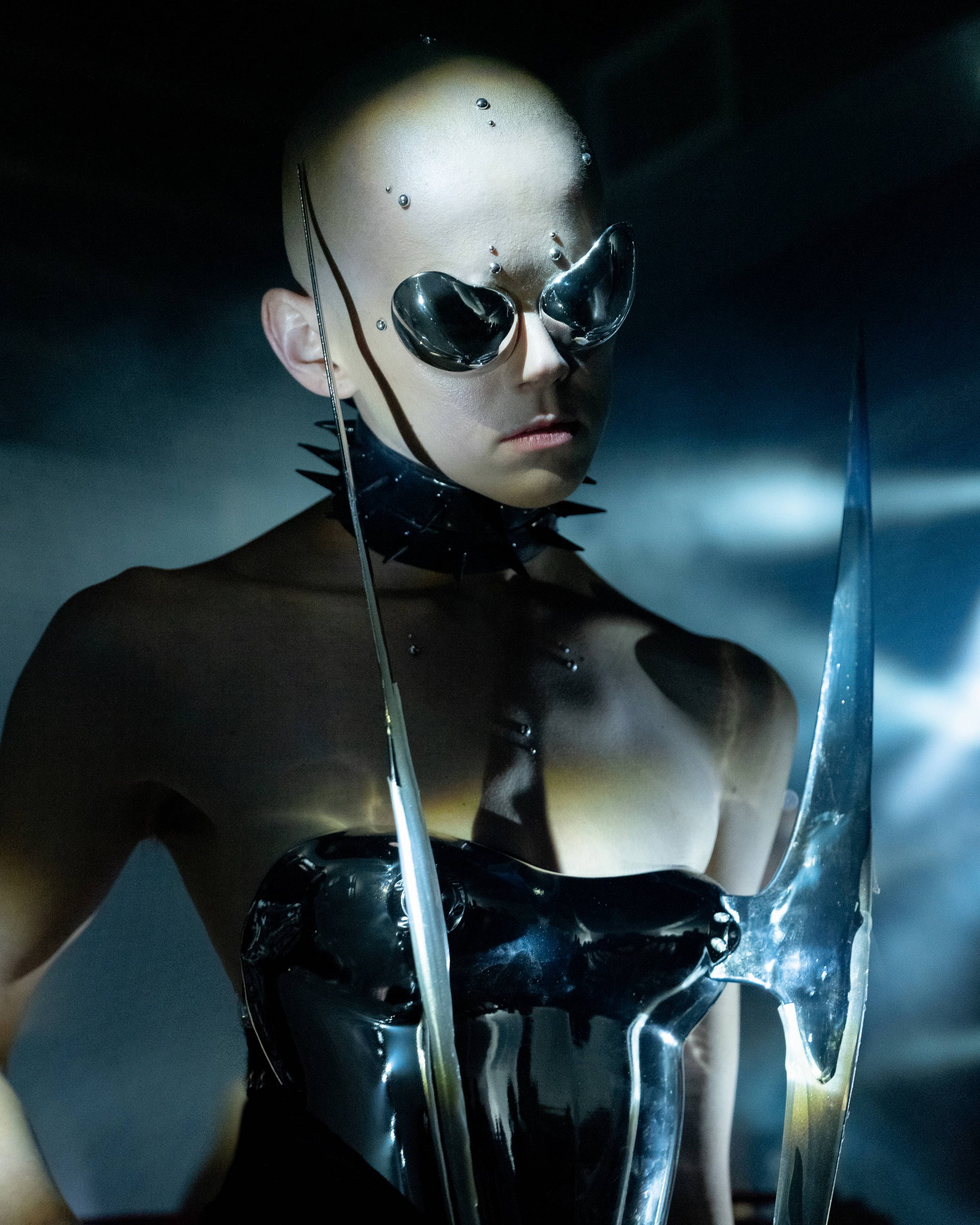 Lastly, why did we cast our show making it mandatory to shave their heads?
We had a few reasons for this direction. I have always been fascinated by how culture has dictated that feminine presenting people, if they shaved their heads, are looked on as crazy or unhinged in the case of Britney Spears and Doja Cat. Meanwhile, there are a multitude of reasons why people shave their heads. Some people do it as a sign of freedom, some people do it to establish their queerness, and others, in the case of the women in Iran, do it as a sign of protest. For some reason society always defaults to these people being crazy, which I find a bit ridiculous. I wanted to express the beauty in being bald, clean and hairless, and cast the show with preference on models with alopecia. We were lucky enough to have a multitude of entries, and I couldn't be happier with the cast we landed on."
-CHRIS HABANA
Creative Director, CHRISHABANA
---
This is the first time I am having a presentation without having to work on the looks myself right up to the show time -- this might feel like a minor thing to some of you, but it is a huge deal for me as it means that the team I have around me this season have been so amazing and intuitive that we were all able to pull this off with a limited amount of time and resources. I cannot express enough my gratitude to my entire team of core workers, interns, freelancers and vendors who helped make this all happen.
Biggest love to Yalcin, Eddie and Anthony for always guiding me and working with me to always realize the best vision possible. Your leadership and drive are what has helped propel this brand into the force it has become and I cannot thank you all enough. Love you guys and love all your work on this show, from contracts to invites to pieces to setup!
I also want to thank my hard working team of interns and freelancers who are always down to get into new mediums and open to work on projects out of their comfort zone. The studio always has a great vibe to it even when we are working under pressure, and as much as I feel like a teacher with some of the jobs, I am also constantly learning from all of you and feel like I've even become a better crafter from our time together. Another huge round of applause and thanks to Rene, Katie, Valentine, Zoe, Mel, Sabrina, Lu, Martin, Sylva, Carolin, Meave, Kessler, Qing, Junlin, Bianca, Devin, Brooke, Todd and Kadi.
Another big thanks goes to Print-a-World and Vers Collab who realized all our 3D printing pieces and Pierre, City Casting, T+M Plating, and Fine Laser Cut for all their skills in casting and metal work, realizing all the jewelry.
I also love the set that was put together by Sierra, Kenny and Parker!
Biggest hugs and thanks to Austin and Hannah who worked tirelessly to create content, this page and have been so diligent with inviting guests as needed for tonight .
Last but not least, this whole endeavor could not be possible without the sponsorship and work for all our partners on this: Diageo, Swarovski, Syro shoes, Ryan Burke and Arrojo and Elsa/Reena Spaulings gallery for hosting us!!!
CREDITS
SCORE - BAE BAE
GRAPHICS - MICHAEL RENASSIA
BEAUTY - RYAN BURKE
HAIR - ARROJO NYC
SHOES - (CUSTOMIZED BY CHRISHABANA) PROVIDED BY SYRO
SET DESIGN- SIERRA VILLAREAL, KENNY MARTINEZ, PARKER CAMP
PHOTOGRAPHY- ANDREW MORALES
SHOW VIDEO- ITENJI